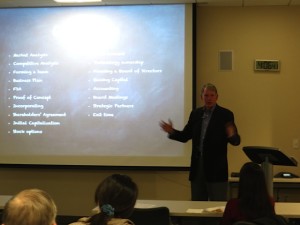 The following are examples of speaking topics for Fred M. Haney: 
Why Your Startup Needs to Hire an Experienced CEO NOW! 
If you're starting a new company and your vision is to create a blockbuster success like Yahoo, Google, or Facebook, you should probably hire an experienced CEO.  There are some very successful "founder-led" companies, but they are the exception.  Most venture capital firms will want your CEO to have previous success in a related industry.  It is a popular misconception that founders can be taught how to be successful CEOs.  Most good CEOs needed 10-20 years to earn their stripes, and that process cannot be compressed into a few months.
What Does it Mean to "Attract Capital" to your Startup Company?
Too many startup company founders make the mistake of cobbling together a business plan and spending months approaching investors, only to discover that they don't have what investors want.  Believe it or not, the best companies "attract" capital like a magnet.  Investors know a good deal when they see one.  So instead of spending lots of time writing a business plan, spend your time creating a company that will attract capital.  Here's how.
Startup Companies:  The Secret(s) to Success
First you need a clear and realistic vision for your product.  What is it's real value?  Why will they buy it?  Why will it be better than the competition?  Then you need a "survival" strategy that defines how far you can take the company without capital — i.e., a "no capital" approach.  The farther you can take your company without raising capital, the greater the value and the lesser the risk you will present to investors. 
What is "Company Building?"
"Company-Building" can be thought of as different from entrepreneur-ship or "Building a Business."   What's the difference and why is it important?  Many successful businesses are managed by a small number of entrepreneurial people.  Not all businesses require the building of a company.  But if your vision is to raise venture capital and build a "blockbuster" company, you will need a management team with extensive "company-building" skills.  These skills involve creating and managing  a multi-level organization, a team of  C-level executives, and strategies for raising capital and sustaining a competitive position in your markets.  Most executives with the necessary "company-building" skills, obtained their talents from 10-20 years of hands-on management experience.
Lessons from both sides of the table:  A Venture Capitalist Turns Entrepreneur
Having been a venture capitalist and angel investor for thirty years, I have a pretty good idea what investors are looking for in a startup company.  When I am on the "company" side of the table, I try to create companies that meet the needs of investors.  The trick is to build  a strategy, a management team, and an operating plan that will show investors how they can make an attractive investment return within their risk tolerance.  Most entrepreneurs  are not able to think like investors, and they end up making the same mistakes.   Think like an investor and avoid the common errors.
Top Ten Mistakes Companies Make When Presenting to Venture Capitalists and How to Avoid Them
Venture capitalists see hundreds of business plane, and every year they hear dozens of business plan presentations.  Venture Capitalists' dirty little secret is that a business plan presentation contains many "subliminal" clues that belie the sophistication and experience of a company's management team.  The most common error is, "We only need 1% of the market. To be successful." This "clue" and others can be fatal mistakes.  Why?  And how can a company avoid this mistake?
Top Ten Strategic Killers of Startup Companies and How to Avoid Them
Why do so many startup companies fail?  Founders often assume that "business is intuitive and easy."  Nothing could be farther from the truth. Startup businesses are fragile.  Sometimes a single miscalculation can be fatal.  Common errors?  Not raising enough capital.  Over-spending.  Hiring errors.  Errors in corporate structure.  A poorly written shareholders' agreement.  Over-estimating market demand.  Under-estimating competition.  Taking advice from people with limited company- building experience.    Failures to consult a CPA or lawyer on critical issues.  What's the best way to survive these "potholes?"
The Karma model of career paths.
Haney Karma Career Model.  Experience sticks to you in unexpected ways.  Don't over-think your career.  Do things you are good at and enjoy; and keep learning.  Learn from my journey from  mathematician and computer scientist to spinout expert and biotech entrepreneur — without ever "jumping tracks."
The Many Hats a Venture Capitalist Wears
Fred uses about a dozen props (hats) to illustrate that a venture capitalist plays many roles, including financier, executive, demolition expert, bull fighter, soothsayer, technologist, networker, detective, fireman, cowboy, vulture, and magician.
Radio Talk Show.  In 2006, Fred wrote "My Doggie Says… Messages from Jamie," a collection of color photographs and stories about his Golden Retriever Jamie's behavioral communications.  In 2007, Fred started broadcasting the "My Doggie Says…" Radio Talk Show on KFNX, in Phoenix.  The show continued until 2012, when Fred's Venture Management workload demanded more of his time.  He continues to record an occasional podcast on topics related to dog communication, dog intelligence, dog training, and dog rescue.  During the four years of the show, Fred interviewed many of the top dog trainers, authors of dog books, and personalities in the dog business.  Guests included authors Dean Koontz, Ted Kerasote, Garth Stein, TV personality David Frei, Numerologist Glynis McCants, President of the American Society of Dog Trainers, and President of the American Humane Society, animal psychic Val Heart.